---
---
The Benefits of Trex Composite Decking Material
---
---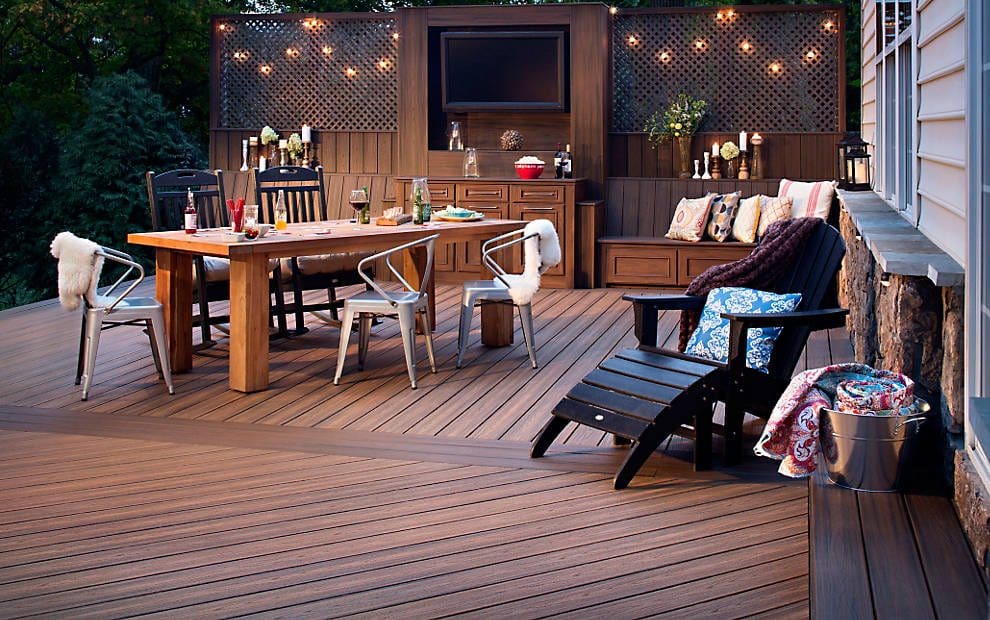 News | jlbworks
Jun 20, 2018
Trex is a popular composite lumber that's typically used in decking. As a composite lumber, Trex is comprised of 95% recycled materials including recycled wood, sawdust, and plastic film. Together, these materials form a plastic-wood composite that's stronger and denser than natural wood decking. Not only does Trex decking prove to be stronger than standard wood, but it's also stain resistant, fade resistant, mold and mildew resistant, termite resistant, and it certainly won't warp, crack, rot, or cause splinters. The benefits of Trex composite decking material are quite vast and require very minimal upkeep, which is why it's the most preferred composite decking material by homeowners. It's also a great option for homeowners who care about eco-friendly products since it's made from recycled material. Therefore, if you are in the market for a brand-new deck, you'll want to add Trex to your list of options. Our Nashville lumber company provides Trex Decking in Nashville, TN and throughout the Middle Tennessee area. Contact our lumber yards today for Trex Decking and the building supplies you need for your next project.
Still on the fence about whether Trex is the right decking material for you? Here are a few more benefits of Trex decking that will help guide your decision:
Optimal Durability: As mentioned above, since Trex is made from a variety of recycled material, it's much more durable than standard wood. Its durability makes Trex an excellent choice for long-lasting decking options. Not to mention, due to its splinter-free natural, it's an extremely safe option for homeowners who have children, pets, or simply like to walk around their decks barefoot!
Boosts Home Value: Trex is a bit more expensive than typical decking materials, but since it has a wide range of benefits, its price range is quite understandable. Like any home renovation, Trex decking is an investment; however, it's one that easily pays for itself in time. Since Trex decking doesn't require consistent upkeep like natural wood does, you'll be saving a significant amount of money in maintenance repairs. Not to mention, if there's a time when you and your family decide to move, your Trex decking will give the value of your home a nice boost, leaving you with some extra change in your pocket.
Color Retention: Since Trex is a manufactured decking material, it can come in a diverse selection of colors, allowing you to choose a shade that best compliments the overall aesthetics of your home. Additionally, you'll never have to worry about the color of your Trex decking fading–composite decking material has excellent color retention and does not need to be regularly stained like natural wood.
Natural Repellent: Most natural wood decking needs to be infused with a range of pesticides and other chemicals to ensure that it doesn't become susceptible to rotting or the infestation of pests. This mix of chemicals can be very dangerous to pets, children, and adults which is why natural wood decking is not always the best option. However, since Trex is a composite material, it doesn't need to be treated with a range of chemicals to reduce the chance of damage from pests and rot. Trex is a natural repellent against these factors.
With so many benefits, it's obvious that Trex is the superior option for the construction of your new deck. Overall, Trex is a great choice for someone looking for a very low maintenance deck.