---
---
How Tigerwood Materials Can Boost the Aesthetics of Your Home
---
---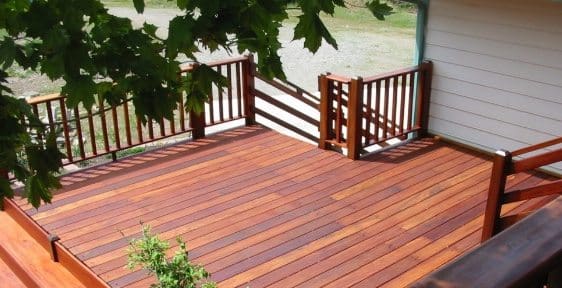 News | jlbworks
Mar 09, 2018
Choosing a Building Material
Receiving its name from the varied black stripes that are featured with its reddish-brown surface, Tigerwood is a common building material in Nashville, TN, used to construct a backyard deck. When choosing to build a deck, homeowners always struggle to decide what material option will work best for them. Since decks have the potential to add excellent aesthetics to a home, owners always want to select a wood that is both durable and provides a complimenting color. Sometimes, deciding between beauty and durability can be a tedious task that no homeowner wants to settle. However, to avoid this troublesome decision, there's a wide selection of decking materials that boast both lovely colors, stain-resistance, and the durability to stand up to all forms of weather. One, in particular, is Tigerwood. Many building suppliers and builders are noticing more and more homeowners are investing in Tigerwood for their decking needs. The luxurious Tigerwood building material exudes a variety of colors that compliment just about every home. Usually, Tigerwood is a mix of bright, reddish-brown, golden-brown, black, and brown hues–yes, it may seem like a lot of colors, but trust us, the end result is absolutely stunning. This beautiful hardwood decking material originates in Central and South America.
So, what is it exactly that sets Tigerwood decking apart from the rest of the building materials?
Adds wonderful aesthetics
Tigerwood features some of the most unique color schemes than most composites or wood types used as decking. Its shade of gold-brown and reddish-brown paired with exotic stripes of black can give any home the perfect pop of aesthetics in their backyard. From sophisticated and refined to tropical and exotic, Tigerwood can give any backyard a perfect dose of flare. Not to mention, if kept in pristine condition, it can also add value to your home, if you ever decide to sell.
Fewer maintenance requirements
Due to its high density, Tigerwood is extremely resistant to weathering and will not rot or succumb to wood decay. You'll find that very minimal efforts of maintenance are needed to keep it in pristine condition in Nashville, TN. Additionally, since it has a very compact grain pattern, homeowners don't need to worry about their Tigerwood deck being affected by any forms of fungal build-up.
Durable
Tigerwood decking material is most known for its sheer durability. Usually, it can last up to 25 years without needing any repairs or any chemical treatments and finishes. Tigerwood tends to be very durable due to its thickness and compact grain patterns.
As you can see, Tigerwood has many benefits that make it a top choice for decking material. Most importantly, Tigerwood is safe to install and yields eco-friendliness since it doesn't require the use of any chemical treatments, finishes, or stains. With Tigerwood, homeowners won't have to choose between durability and beauty, because this type of wood has it all.
We are building Suppliers in Nashville, TN, for TigerDeck and Much More
If you are looking for TigerDeck and building suppliers in Nashville, TN, contact our lumber company, today!  We have the building material to help you complete your project. TigerDeck is extremely durable, offering a 25 year limited warranty. This product is low maintenance very stable, and has minimal checking and warping. Tigerwood also has a natural ability to resist insects and decay.