---
---
What Materials Should You Be Using to Build Your Deck?
---
---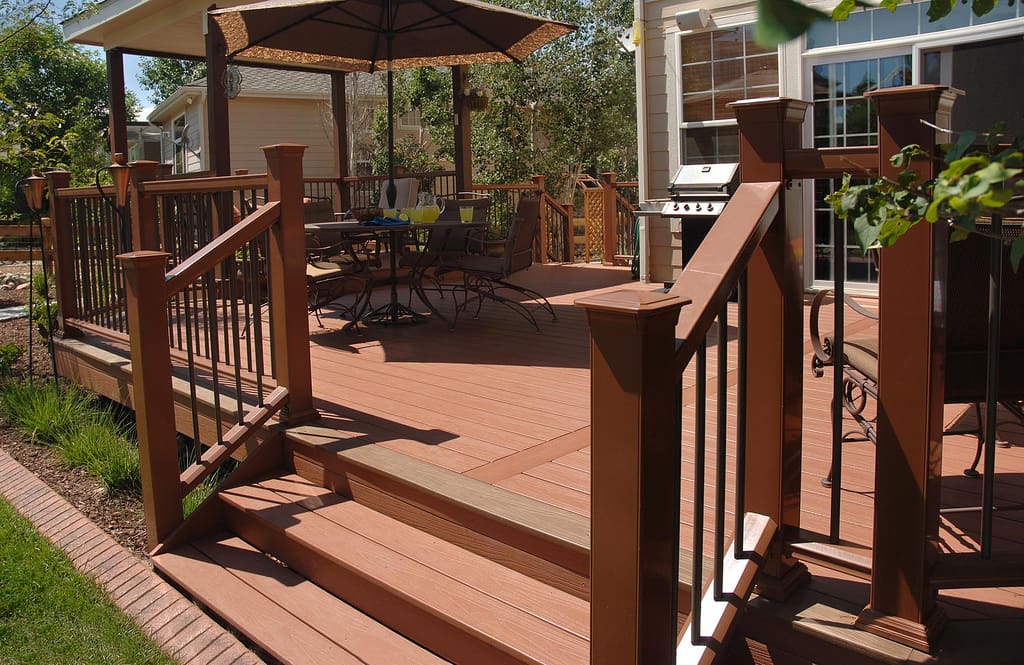 News | jlbworks
Sep 09, 2017
Find Lumber and Building Material in Nashville, TN at Our Lumber Yards
With so many options for your backyard, Popular Mechanics helps break down the five basic types of decking you can use for your backyard oasis.  Oakley Lumber offers building material, building supplies and many of the products highlighted in the article below at our lumber yards in Nashville, TN.  Check out our products page  or contact us in Nashville, TN, to learn more about how our Nashville lumber company can help you choose to best products for your backyard!
1. THE ECONOMIC ANSWER: PRESSURE-TREATED LUMBER
Despite all the competition, this ubiquitous green-tinted wood is still the No. 1 decking material sold today. In fact, according to Arch Treatment Technologies, a leading producer of wood preservatives, approximately 75 percent of all new decks are finished with pressure-treated (PT) lumber.
The widespread popularity of PT lumber isn't surprising: it's affordable, readily available coast-to-coast, and easy to cut and fasten with nails or screws. Most PT decking is milled from southern yellow pine, and then chemically treated to resist rot, fungus and wood-boring bugs. The two most common sizes of treated decking are 2 x 6s (90 cents per linear foot), and 5/4 x 6-­in. planks ($1 per linear foot). Occasionally 2 x 4s (60 cents per linear foot) are used, but typically only on small decks or railings.
The downside of PT lumber is that it's not very dimensionally stable, so it has a tendency to crack, split and warp. And routine maintenance is necessary to prolong the life and look of the deck. This will include an annual power washing and an application of stain or wood preservative every two or three years.
By the way, for more than 60 years PT lumber was infused with chromated copper arsenate (CCA), a suspected–some say, known–carcinogen. However, CCA hasn't been used in residential lumber since December 2003.
Today's PT lumber is treated with safer, less toxic chemicals, such as alkaline copper quaternary (ACQ) or copper azole. A newer carbon-based, nonmetallic preservative is also available in a limited number of products, including Wolmanized L3 Outdoor Wood.
2. NATURALLY SUPERIOR: REDWOOD AND CEDAR LUMBER IN NASHVILLE, TN
For many purists, the only choices for decking are redwood or red cedar lumber. Both of these western softwoods are prized for their rich color and natural beauty, and because they aren't pumped full of chemicals or preservatives. Both species contain tannins and oils that make them naturally resistant to rot, decay and voracious insects.
However, the level of weather- and bug-resistance is directly related to the amount of heartwood in the boards. Heartwood grows closer to the center of the tree, and is relatively hard and very resistant to decay. Sapwood grows in the outer part of the tree, near the bark, and is softer and more susceptible to decay.
Award-winning deck builder Scott Padgett, of Idyllwild, Calif., uses redwood exclusively for decking. ("Composite decking has no soul," scoffs Padgett.) The California Redwood Association (CRA) recommends using sapwood-streaked construction common or deck common redwood for decking, but Padgett prefers to use B-grade redwood, which is nearly clear of knots and contains mostly heartwood. For decking that's 100 percent heartwood, the CRA suggests using construction heart redwood.
According to the experts at the Western Red Cedar Lumber Association, the four best grades of cedar to use for decking are (listed from most expensive and clearest, to least expensive and most knotty): architect clear, custom clear, architect knotty, and custom knotty.
In most regions of the country, redwood and cedar each cost at least three times more than pressure-treated lumber. For example, I recently bought an 8-ft.-long red cedar 2 x 6 and paid nearly $4 per linear foot–ouch! Both species are considerably less expensive on the West Coast. In California, for instance, a B-grade redwood 2 x 6 costs about $2.35 per linear foot.
Redwood and cedar lumber require an annual power washing and coat of finish every three to four years. To protect the wood's surface from the weather, and to help reduce checking (fine splits), apply a clear, water-repellent wood preservative.
To maintain the wood's natural color, however, you'll have to apply a stain. (Padgett recommends Superdeck semi-transparent stain.) If you don't apply a stain, both redwood and cedar lumber will eventually weather to a soft silvery gray.
3. EXOTIC IMPORT: TROPICAL HARDWOODS
Massaranduba, cumaru, red tauari, tigerwood, ipe, and Philippine mahogany are just some of the tropical hardwoods available for decking. These exotic, rich-grained woods are extremely hard, very durable and naturally resistant to rot and insects.
However, because these woods are so dense, they're heavy and difficult to cut and drill. In fact, it's virtually impossible to drive a nail or screw without first boring a pilot hole, which is why tropical decking is typically installed with some sort of hidden fastener that clips or screws into the edge of the boards.
Tropical hardwoods are relatively expensive, especially when compared with PT lumber, but in most parts of the country they're comparable in cost to redwood and cedar. The most common of all tropicals is ipe (EE-pay), which is also known as Ironwood or Pau Lope. It's a beautiful hardwood that's similar in appearance to mahogany, but a darker, richer crimson. A 1 x 6 of ipe costs about $3.50 per linear foot.
Most tropical hardwoods are so dense they don't accept stains very well. But if you're determined to apply a stain, be sure it's an oil-based penetrating stain specifically formulated for hardwood decking, such as Messmer's UV Plus Finish. If you choose not to stain the deck, you should at least apply a UV-blocking clear wood preservative every three to four years.
Bob Kiefer, owner of New Jersey-based Decks by Kiefer, is a high-end custom deck builder who installs nothing but ipe decking. He suggests allowing the wood to weather one to three months before finishing, so that excess oils can leach out and the decking can then better accept the finish. Kiefer also recommends applying finish to both ends of every board as extra protection against checking.
And like cedar and redwood, most tropical hardwoods weather to a soft silvery color if they're not stained. The amount and speed of any fading depends greatly upon the deck's exposure to sun, rain and snow.
Lastly, when buying tropical wood lumber, or any wood for that matter, check with your lumber dealer to ensure that the wood was certified by the Forest Stewardship Council. This nonprofit organization identifies lumber that has been harvested in a legal, sustainable manner.
4. BETTER BOARD: COMPOSITES
Composite decking and its cousin, plastic lumber, represent the fastest-growing decking materials sold today. In fact, while researching this piece, I visited decks.com, and found more than two dozen companies that make plastic or composite decking. Most products are made from polyethylene or polyvinyl chloride, and come in a wide range of colors.
Composites, like Trex, TimberTech, CorrectDeck, and Veranda, to name a few, are composed primarily of wood fibers and recycled plastic. The result is an extremely weather- and stain-resistant board that won't splinter, warp, rot or split.
Plastic lumber, like Azek Deck, ForeverDeck and Leisure Decking, is made from 100 percent plastic (recycled and/or virgin); it contains no wood fibers. It, too, is highly resistant to staining and decay, and free of knots, cracks and splinters.
Both composites and plastic lumber come in sizes similar to wood decking, including 2 x 4, 2 x 6 and 5/4 x 6-­in. Prices vary because there are so many different companies, but composites are typically less expensive than plastic lumber. For example, for 5/4 x 6-­in. decking, expect to pay about $2.50 per linear foot for composites, and $3 per linear foot for plastic lumber.
Most composite decking and plastic lumber manufacturers also offer a line of handrails, balusters, fascias and other decorative trim.
Now, not everyone likes the idea of installing manmade decking, but composite decking and plastic lumber do have certain advantages over wood: They're extremely low-maintenance and never need to be sanded, refinished or stained. However, they aren't maintenance-free. Mold and mildew can grow in shady, damp areas of the deck, and some composites can eventually show signs of decay, which makes sense since they are partly wood.
5. STAY-COOL OPTION: ALUMINUM
OK, I admit it. I've never actually seen an aluminum deck–and perhaps you haven't either–but that doesn't mean aluminum isn't worth considering for your deck. In fact, in some ways, it's an ideal decking material:
Aluminum decking, such as LockDry, Versadeck, and AridDeck, won't rot, rust, warp, splinter, crack or check, and it's extremely weather-, mold- and slip-resistant. Its powder-coated finish lasts virtually forever and it'll never peel or blister.
Aluminum can't catch fire, wood-boring bugs hate it, and it's cryogenically strong, meaning it doesn't get brittle in extremely cold weather. And, it's totally recyclable.
When compared with wood, composite and plastic lumber, aluminum decking is three to four times lighter, yet two to three times stronger. It can be cut with the same saws and carbide-tipped blades used to cut wood.
Most aluminum planks have interlocking edges, which create gap-free, watertight decks. Built-in, self-draining channels collect and dispose of rainwater. Provided you can keep the channels debris-free, the feature is particularly useful for second-story decks since the space below stays dry.
And you might be surprised to learn–as I certainly was–that aluminum decking actually stays cooler in the sun than most other types of decking because of the metal's superior heat-dissipation properties.
Sounds great, right? Unfortunately, aluminum is the most expensive of these five decking options, costing about $9 per linear foot for a 1 x 6-­in. plank.
Source: Popular Mechanics